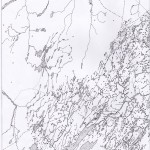 The new discussion paper, Näätämö Work Report 2015-2016 is out. In this paper, the results from the ecological restoration mapping of summer 2016, as well as traditional knowledge observations of the basin are discussed.
The season was characterized by extreme weather events, including very warm New Year, heavy rains in the summer and wet Autumn.
The new Work Report is available here.