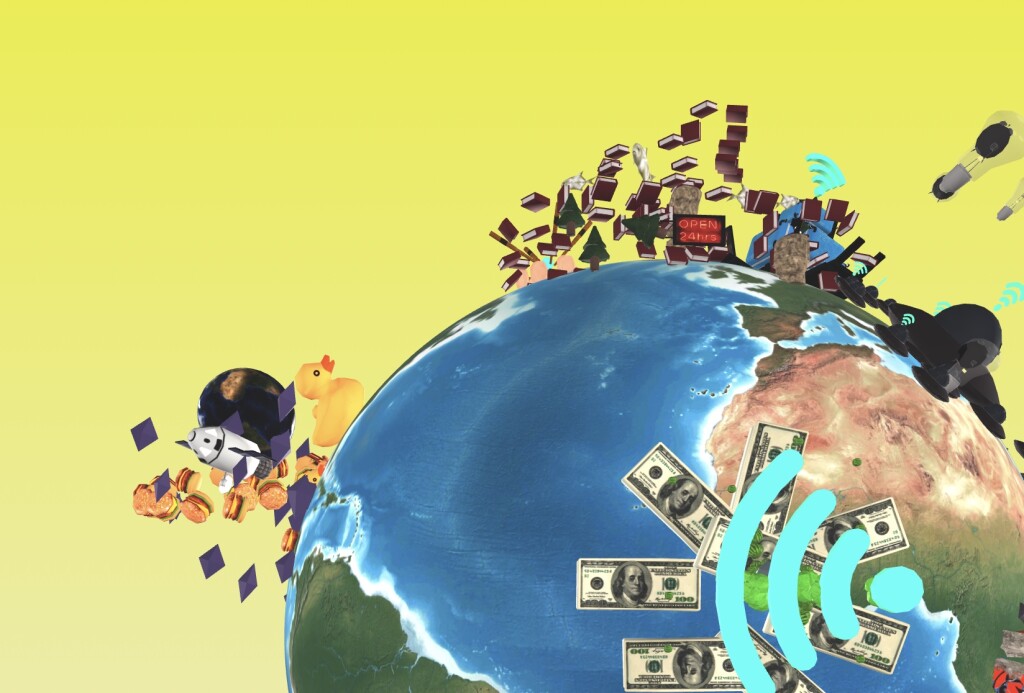 What is shaping how we think about our planet's future? Faced with the uncertainty of the pandemic and in the midst of the climate crisis, it has never been so unclear what lies ahead. How can we go forward positively when the future is so complex, uncertain and unknown? 
FORECAST is a new programme from award-winning art and environment organisation Invisible Dust that will consider answers to these urgent questions. Bringing together leading artists, scientists, influencers and change-makers and working with a range of international partners including Sydney Environment Institute and Ugandan Arts Trust, this timely programme presents newly commissioned artworks, a rich events programme, live performances, collections of writings and curated films, to champion new art and ideas from every continent that consider what our future will look like and what's next for this planet.
The first contemporary art commission for Forecast is Forecasting: Interesting Worlds, a new collaborative digital artwork by acclaimed Chinese visual artist Fei Jun, which will premiere  online on 4 February 2021.
For this new digital work, Fei Jun has asked thirteen people from across the world (including Russia, China, Antarctica, Ghana, Mozambique, Finland, the USA, Canada, Australia, New Zealand, Uruguay and the UK, with an additional participant representing our seas and oceans), to consider their own visions of the future. Using a special app created by the artist, each contributor has selected from over 180 icons of everyday and unusual objects to build an intricate 4D model 'universe' of what they imagine their future to be. These icons, their selection and the way they are placed and interact with others form a dialogue and a moving universe of their hopes and fears, forming a powerful final collaborative artwork which can be explored online.
Fei Jun said: "What is shaping our visions of the future? Forecasting: Interesting Worlds is my quest for the answer to this question with contributions from people from different continents, cultural backgrounds and disciplines. I believe the essence of the planet's future lies in flexibly creative ways of working and thinking, with the spirit of activism and participation more important now than ever."  
In addition to this new art commission, Forecast will present a five-day programme of online events from 3—7 March 2021, including panel discussions and in-depth talks from the likes of  campaigner Lily Cole, activist Daze Aghaji, National History Museum Curator Miranda Lowe, and climate scientist Hakima El Haite, exploring what is shaping how we think about the future. Artists Ahilapalapa Rands and Adam Chodzko will present new performance pieces responding to this topic, and artist and filmmaker Hito Steyerl will premiere her new film Leonardo's Submarine. The full events programme with participating speakers will be announced shortly.
Alice Sharp, Director and Curator at Invisible Dust, says: "We are delighted to announce this timely new cultural programme which will consider what is truly next for our planet. As recent events have made all too clear, we cannot plan for the future by assuming it will look like the past. This new programme will come to life through collaborations with leading thinkers, artists and changemakers as well as contributions from people from every continent, to encourage answers to vital questions and offer a global insight into their changing worlds."
As part of the Forecast programme, Invisible Dust have also asked 40 international participants to provide their response to their central question of 'what is shaping how you think about the planet's future?' Participants responding to the question include antarctic scientists, energy experts, indigenous environmentalists, glaciologists, CEOs, activists and leading artists.
Participants include novelist China Miéville, campaigner Lily Cole, mathematician Marcus du Sautoy, Alexandre Antonelli (director of Science at Kew), Judy Ling Wong (director of the Black Environment Network), environmentalist and indigenous peoples activist Hindou Oumarou Ibrahim, ecologist Tero Mustonen, David Schlosberg (Sydney Environment Institute), Robert Mulvaney (Glaciologist, British Antarctic Survey), composer Jamie Perera and many more. The responses provide an insight into their hopes and fears, and how we can navigate the future of the planet at this pivotal juncture. Some have drawn inspiration from ancient and indigenous wisdom, while others consider the future lives of their children. Data and models, the role of creativity and the interconnectedness of life on this planet all feature prominently. A full list of their responses can be found online here.
Forecast also invites the general public to connect with the project and share their views. Submissions of no more than 50 words can be emailed to forecast@invisibledust.com. A selection of these views will be featured on social media and via the Forecast website.