In an effort to better address the needs of the Indigenous-rights movement at the grassroots level in the Arctic region, Land is Life has partnered with Snowchange Cooperative, to launch our Indigenous-Led Grantmaking initiative in the North American Arctic. This has included sites in the boreal and sub-Arctic.
Indigenous-Led Grantmaking is an approach developed by Land is Life and its global network to provide support through small, flexible funds to grassroots Indigenous leaders, communities and organizations around the globe based on self determination. For this regional pilot initiative, Tero Mustonen of Snowchange Cooperative, identified small, yet important initiatives within the North American Arctic and will work with recipients to monitor, evaluate and report in a way that recognizes their unexpected and frequently changing circumstances and upholds their right to self-determination.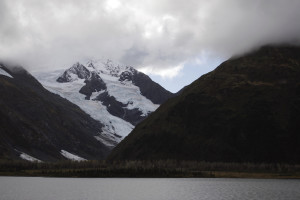 Additionally, Snowchange has been conducting a wide-ranging climate change, wellbeing and youth-oriented initiatives to document climate change impacts and traditional knowledge, identify community-based measures to adapt to those changes and provide culturally-appropriate mechanisms for transfer of Indigenous knowledge, culture and ways of life to youth on land at the same time. Land is Life has agreed to collaborate on and co-sponsor an event organized by SnowChange Cooperative which will  convene an intergenerational group of Indigenous people to to share this work and discuss the realities and potential solutions to these new and growing challenges.
This new partnerships builds off experience in the region through our long-term capacity building partnership with the Gwich'in Steering Committee which has been supported through NoVo Foundation.
The funded projects are:
Tahltan Community Based Monitoring Programme
Indigenous Organisation: Tū'dese̲'chō Wholistic Indigenous Leadership Development Society Location: Northern British Columbia and Yukon, Canada
This proposal addresses a part of the North American north which is often excluded from Arctic cooperation due to its location at the BC-Yukon borderlands. It is also central location for the pristine Stikine watershed. There are no land claims in place and the people are interested in advancing steps towards Indigenous sovereignty  and progressive climate work. The proposal will organize a community meeting, take first steps in CBM monitoring and engage local schools and scientists. The LIL grant funding will allow hunters, youth and Elders to participate in the overall mission and a more level dialogue with science and governmental parts of a monitoring mission.
Atlas Mapping Project
Indigenous Organisation: Hamlet of Chesterfield Inlet
Location: Nunavut, Canada
This hamlet wishes to start creating an online atlas of traditional land uses, place names, ecology and archaeology. Of special interest is the focus on caribou as a keystone species. It is recommended that a seed fund is provided from the LIL grant to focus specifically on  Elder's knowledge documentation.
Inuinnaqtun Mentor-Apprentice Project
Indigenous Organisation: Pitquhirnikkut Ilihautiniq / Kitikmeot Heritage Society
Location: Cambridge Bay, Nunavut, Canada
This mentor-apprentice programme proposal addresses a real and urgent need. The speakers of Inuinnaqtun are being affected by rapid cultural change and despite the success of Nunavut as an Inuit-led territory on other fields, it is true that the linguistic revitalization is doing poorly. Pitquhirnikkut Ilihautiniq also points correctly to the fact that worldviews, key Indigenous cultural concepts and relationships with the land can only be expressed in Inuinnaqtun.
Unangax Plants as Foods and Medicine Symposium
Indigenous Organisation: Aleutian Pribilof Islands Assocation, Inc.
Location: Unalaska, Alaska
This project wishes to convey Unangax Indigenous knowledge at an event designed to revitalize and promote the he traditional plant knowledge of the community. This work includes linguistic terms of plants, revitalization of traditional knowledge and documentation of existing knowledge, making plant salves and other healing elements, preservation of foods and herbal teas. The project is led by a respected Aleut organisation and the plan is solid and credible.
Painting the Future of Unalakleet Weather: Merging Science, Indigenous Knowledge and Inupiaq Youth Voices for Community Climate Assessment
Indigenous Organisation: Unalakleet Community
Location: Unalakleet, Alaska
Unalakleet is the hub of the Norton Sound communities and the center of the Bering Strait School District. The region according to the proposal suffers from intensifying impacts on the coastal erosion, storm events and temperature changes. The project participants, representing citizens and members of the Inupiaq population of Unalakleet are proposing to finding solutions through Indigenous knowledge and science. The project will produce a first-ever science paper of Inupiaq knowledge specifically from Unalakleet and weather data of the baseline changes, western science assessment of the urgent issues on Norton Sound and a "visions of the future" youth Indigenous arts action for allowing the youngest to express their views on the changes under way. International Snowchange Co-op is providing co-funds and the Bering Sea School District will work on the project youth aspect (initial agreement in April 2019).