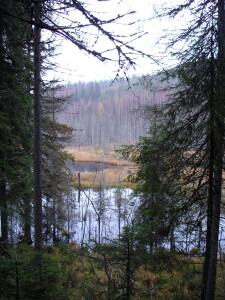 At 98, Impi Salonen (1922-2020), from the partly ceded Korpiselkä community in North Karelia, Finland, has passed on. Together with her husband Veikko (6.3.1921-10.9.2007), Impi was considered a key heritage person of the Karelian ways of life after the war. Both were accomplished oral historians.
Snowchange worked in 2000s with both Veikko and Impi to record and document the deep Karelian traditions that were still a living culture to Veikko and Impi. They were both active in several initiatives to preserve and advance Karelian culture, including decades-long public work in Karelian organizations and a wish to construct Korpiselkä building as a cultural center for the local Karelian culture.
Snowchange worked with Veikko and Impi to document oral histories on weather change, environmental shifts, preservation of Karelian culture and spiritual traditions. Hoilola, their home village, is regionally known for advanced and sophisticated wood carving and handicrafts skills and traditions.
On the last meeting with Snowchange, Impi hoped that "make sure these recordings and knowledge will not stay in archives collecting dust, but see that they are put to practice and  to use."
This is the mandate and guidance that Snowchange strives for here in our home region – we are deeply thankful to Impi and Veikko for their gifts of knowledge and we will cherish their legacy.